Doorphone - KNZD-43 - Koontech
Doorphone - KNZD-43 - Koontech
The IP Intercom/door phone will be designed to work on apartment, hospital, school, metro…Housed
in robust metal body, vandal resistant and tamper-resistant. FDSP ensure voice loud and clear. Good
looking, durable, easy to install, comfortable buttons, and low power consumption.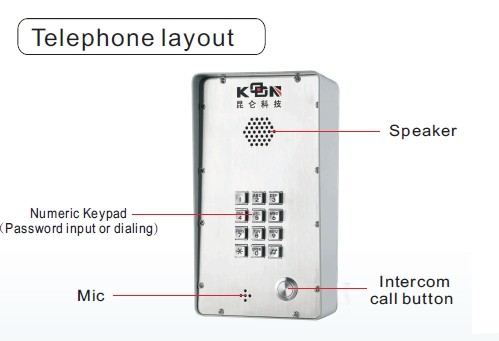 Support G.711,G.729, etc. Codec voice intercom

Support SIP 2.0(RFC3261) and related RFC protocol

Unlock function (swipe or communication) 
 Visitor leave message

Software upgrading on line
or status
Basic Function
WEB remote management of Terminal malfunction
Calling indoor extension for two-way conversation
Support SIP 2.0(RFC3261) and related RFC protocol


Specification
Communication protocol
SIP 2.0(RFC-3261)
Master Chip
Broadcom 1190
Keys
Design
Stainless steel
Direct-button
1
Numeric Keypad
Optional
Voice
Microphone
1
Amplifier
0.5W-10W
Speaker
2W
Volume Control
Adjustable
FDSP
Support(AEC)
Voice stream
Supportable Protocol
RTP/RTSP
CODEC
G.711, G.729
Port
Power Supply
12V+-15%/1A DC or PoE
PoE
PoE 802.3af (Class 0 - 12.95W) 48V/380mA
LAN
10/100BASE-TX s Auto-MDIX, RJ-45)
Cables
HSYV or better
Passive Switch
Normally Open and Normally Closed highest at 30V/1A AC/DC
Active Switched Output
12V/500mA DC
Rs232
Supported

RFID/IC

Card Reader

Optional
Interface
Power supply
12V+-15%/1A DC or PoE
PoE
PoE 802.3af(Class 0-12.95W)
LAN
10/100BASE-TX s Auto-MDIX,RJ-45
Recommended cabling
Cat-5e or higher
Passiveswetch
NO and NC contacts,up to 30V/1A AC/DC
Actice switch output
12V/700mA DC
Structure
Shell Material
Cold Rolled Steel
Operating Temperature
-40 C to55 C
Working Condition
Relative Humidity
10%-95%
Storage Temperature
-40 C to70 C
Installation
Embedded installation (pre-burying)
Size
159*130*40mm

Web Business Management
It is mainly used for remote management KNZD-45
voice access device, which includes such features
as the device parameter management, access
control parameter settings, card, log management.
Access Control
Access control is consist of KNZD-45 voice access
control, exclusive DC power supply and electric
lock . Inside of KNZD-45 , self-powered electric
lock can directly drive the starting current of 500mA
power locks; additionally you can also access
exclusive external DC power supply and the voice
access output control signals , to drive electric lock
on and off by access exclusive DC power.
Intercom function
KNZD-45 voice intercom system consists of
KNZD-45- access control, SIP phones, phones
installed SIP soft-terminal, IPPBX . KNZD-45
Voice Access supports standard SIP protocol,
and has good system compatibility with main
IPPBX in the market
IP door phone
intercoms for every situation-whether in security,
business,emergency,or any other special area.
From providing simple applications requiring a
clear and easy connection to a single IP telephone,
to comprehensive communication arrangemens
integrated into security and signalling system and
IP PBXs.Having the highest quality and certification,
ensures compatibility with industry-standard-based
IP network solutions such Avaya,Cisco,and others.